After last week's email, we've had lots of people get in touch asking to see a picture of little Doodle.  Here he is (it's quite tricky to get decent photos of him because he never stands still!  But I'll share a few more at the end of the email for the dog-lovers amongst you):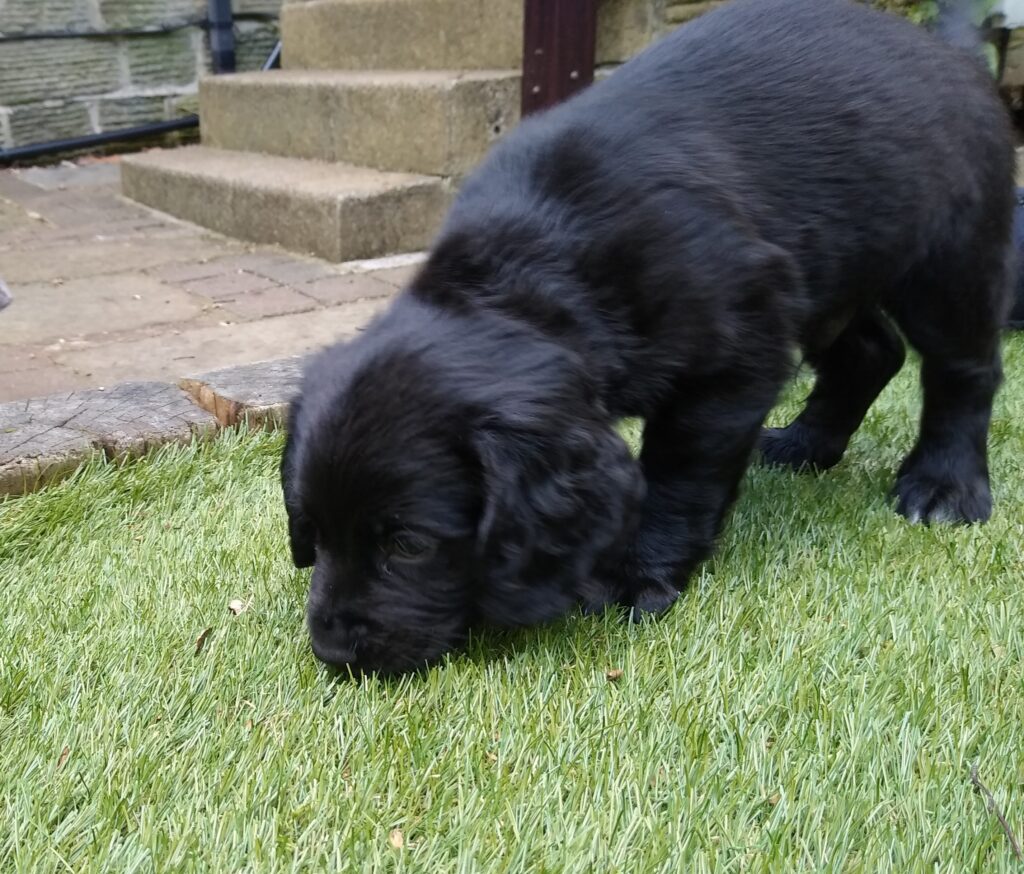 I'll also let you know how I share photos and videos with people – it's quick and easy and works from any device.
But first – a crafty new phone scam that's started doing the rounds, trying to get round the new payment card security rules online.
I don't know if you've had one of these messages yet when you're using a credit or debit card to pay for something on a website. If you're buying from somewhere new, and the price is over a certain limit, you'll be asked to confirm that it's really you by typing in a code sent to your phone.  It's a great system that will help stop an awful lot of online card fraud – it means it's not enough to just steal your card details any more.
Except, a few days ago I heard about a trick that some very clever scammers have tried to get round it.  Now, to do this, the scammer has to already know your card details and your phone number.  The easiest way for them to get hold of that information is to hack into an online account where you've stored it, or put a bit of malware on your device that steals the information as you type it in.  So the best way to protect yourself from this type of scam is to use strong passwords on your accounts and keep your anti-virus up to date.
That said, this is how the scam works.  Someone calls you claiming to be from your bank's fraud prevention unit.  They say that your account is being fraudulently used in (say) Birmingham and confirm the last 4 digits of your card number to prove they're genuine.  (Remember, for this to work they already need to know your card number.)  They offer to cancel your card and send out a new one for your own security.  All they need you to do is read out the security code that's about to be sent to your phone.
You can probably see where this is going.
The person you're talking to is actually a scammer who's trying to put through a big purchase using your card details. And the security code that's about to be sent to your phone is the one the bank sends out to check that it's really you.
Like I said – sneaky!
A genuine bank will never ring you out of the blue and ask you to reveal card numbers, PIN numbers or security codes (one-time passcodes or OTPs). If someone is asking for information that makes you feel uneasy, hang up and call the bank's own fraud-prevention hotline. You should be able to find the number on the back of your bank card.
But on a cheerier note, I said at the start of the email that I'd share a few more pictures of Doodle for those of you that are interested (apologies for the blurry pictures – like I say, he rarely sits still). For those of you who'd like a look, just click on this link to see them:
https://photos.app.goo.gl/5zHs442r6gsQgwvm7
I'm sharing these pictures using a service called Google Photos. If you've got an Android phone or tablet, you'll already have it – but you can install the app on an iPhone or iPad if you like, or go to the website photos.google.com and sign in with a Google account. If you have the app on a phone or tablet, you can use it to look at, edit and share any pictures that you take with your built-in camera. You can also upload photos to the website on your computer.
Then if you've got a photo or video you want to share, here's how to do it:
Click or tap on the photo to open it
Click or tap on the share icon (it looks like three circles joined with straight lines)
Then choose "Create link" from the menu that appears
You can then send an email or text message to someone and paste that link into it.  Then anyone with the link will be able to see your pictures – they don't need to have their own Google account, so it's really easy to use.
So that's it for this week – all the best from us here in the Wakeling household.